Kwik-Klik clients include…
Kwik-Klik has unrivalled experience in configuring and installing high quality, re-usable construction site hoardings. We work closely with clients and principal contractors to offer bespoke systems to match the site terrain.
Our hygienic PVC partitions are helping the NHS to re-configure ward layouts in line with changing demand and our permanent PVC wall cladding maintains the highest hygiene standards.
Kwik-Klik works closely with the UK's leading display graphics specialists to create eye-catching large format hoarding graphics and worksite branding solutions which add commercial value.
Kwik-Klik's range of re-usable, sustainable hoarding systems (featuring 100% recycled PVC panels) will boost your project BREEAM scores, generate Zero Waste to Landfill Sites and reduce your carbon footprint.
Kwik-Klik specialises in installing Retail hoardings for the UK's leading supermarkets, shopping centres and department stores. We cover internal and external worksites and our can provide pin-sharp large format graphics.
Our partition walls and foodsafe production area segregation systems create bespoke temporary, or semi-permanent partitions for foodsafe environments, manufacturing, warehousing, offices and TV studios.
Kwik-Klik configures and installs secure worksite hoardings, partitions and divider walls in 'live' airport, rail and industrial settings. Our R-11 and Fire Rated hoardings are approved by Network Rail and London Underground and all systems meet HSE Temporary Works Design criteria.
We specify, plan and install our systems to meet your programme. Our modular, re-usable worksite hoardings and partition walls can be re-located during complex phased projects. We can also formulate a unique combination of systems to ensure your project runs smoothly.
Our Customers Say…
"I am very impressed with the products and service standards offered by Kwik-Klik. After a supplier had let us down, Kwik-Klik stepped in and came up with a great, speedy solution. The system scores well on cost, appearance and flexibility."
"Thanks for completing on time and allowing me to handover a fantastic store yesterday morning. The client feedback so far has been better than I've ever received. I appreciate everyone's hard work."
"Kwik-Klik were very responsive to the needs of the Trust in delivering bespoke screens to all our reception areas and larger open plan offices. They provided us with quick, cost-effective solutions which gave our staff extra confidence in their workplace."
"Kwik-Klik's re-usable hoarding systems are easy to handle, create a safe and professional customer-facing finish and are easy to re-locate. The innovative systems give good value for money to everyone in the supply chain."
"I just want to say a massive thank you to the Kwik-Klik team on the Longsight Asda project. They have done a great job and the attitude shown by the lads to get the job done was refreshing to see. Please pass on my thanks."
Looking to order materials only?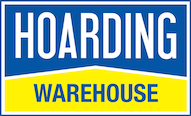 Buy our easy-fit, re-usable hoarding systems direct and fit yourself. We supply all fixings and can advise you on performance, configuration and quantities.
Visit www.hoardingwarehouse.co.uk for more.