Maximise hoarding branding opportunities with large format graphics
Hoarding around a site doesn't have to be purely functional; applying high quality, large format graphics gives you the opportunity to achieve a range of branding and marketing objectives.
Hoardings are a blank canvas and can be transformed into premium advertising.
Large format hoarding graphics can:
Maintain a brand presence on vacant sites and work sites
Create a buzz about the finished project
Brighten worksites undergoing construction, fit-out or refurbishment work
Distract/direct/entertain/inform
The hoarding graphics experts
In addition to being the original innovators of closed loop recycled hoarding systems, Kwik Klik has a wealth of experience in the production of hoarding graphics and large format graphics. Working with top brands, including M&S, Sky, Ted Baker, Footlocker, Hamleys, and Gucci, we offer an unrivalled hoarding and graphics solution, under one roof.
Perfect for any environment
Our team have extensive hoarding graphics experience in the UK's premier supermarkets, shopping centres, railway stations and department stores. We also work with principal contractors and liaise directly with client designers/agencies.
Fast turnaround
Because our graphics are artworked, produced, and installed by our in-house team, we aim to install graphics within 24 hours of the hoarding being installed, in some cases on the same night.
Beyond hoarding graphics…
Our skills, experience and know-how transfers seamlessly beyond hoarding graphics to other surfaces and applications – including window graphics (see M&S photo on the left), large format wall graphics, wall, door and floor vinyl graphics, external graphics, solar film and glass manifestation. Our additional Graphics services are showcased on our Retail Graphics and our Healthcare Graphics pages.
More examples of our hoarding graphics
2023-11-17T12:57:39+00:00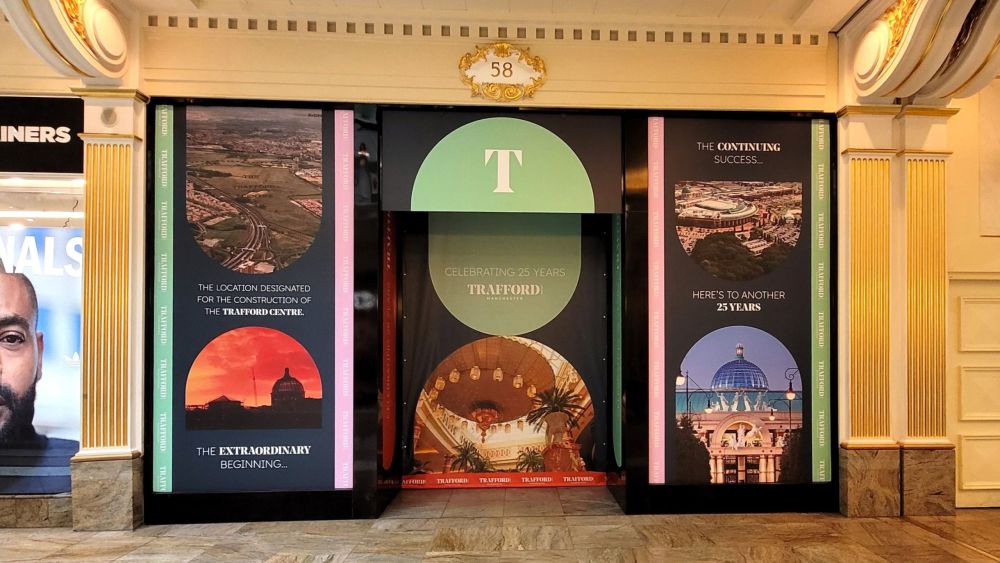 Kwik-Klik is delighted to be involved in installing graphics to celebrate the 25th Anniversary of the opening of Manchester's iconic Trafford Centre