Providing high quality partition walls, temporary hoardings and protective screens to healthcare environments since 2009
Kwik-Klik has been working closely with Estates Departments in many of the UK's leading hospitals since 2009. We have consistently met demanding criteria for temporary hoardings in healthcare environments – including hygiene and safety regulations for indoor and outdoor hoarding installations at major hospitals.
Our innovative, re-usable modular systems have always been in the forefront of hoarding development and we have been tailoring our systems to the specific needs of the healthcare sector and the worksite requirements of principal contractors.
All of our systems meet HSE Temporary Works Design criteria and are designed to support existing Infection Control measures which protect hospital staff, patients, visitors and trades personnel involved in hospital refurbishment programmes.
Our rapid response to coronavirus
Kwik-Klik's working knowledge of hospital environments allowed us to respond quickly in March and April 2020 when the UK experienced the initial spike in hospital coronavirus admissions.
Kwik-Klik's Floor-to-Ceiling system was used to create new Intensive Care Units and Isolation Rooms within existing hospital wards throughout the UK.
We have also installed temporary and semi-permanent clear PVC screens in hospital reception areas, offices and diagnostic rooms.
As well as working within existing hospitals we have also helped the NHS to mobilise the Nightingale hospitals around the UK. In partnership with our sister company AM-Clad we have supplied and installed flexible PVC bed partition systems and hygienic PVC wall cladding systems for internal walls within the adapted facilities.
Our flat-pack bed segregation system was installed at NHS Rainbow Hospital Deeside in North Wales. No visible fixings ensure there are no trip hazards around the edges and the bed partitions have a smooth PVC finish which is easy to keep clean. The Kwik-Klik team were on site to provide installation training to local contractors.
Flexible, modular healthcare solutions
The diagram shows how we can configure and install our systems to meet the exact requirements of each NHS Trust when the need arises.
The same hygienic PVC panels can be used to create:
Stepped bed partitions in an open plan space (e.g. in the Nightingale hospitals)
freestanding walls for bed separation in existing wards with optional vision panels
Floor-to-Ceiling sealed isolation rooms for ICUs with built-in doors and vision panels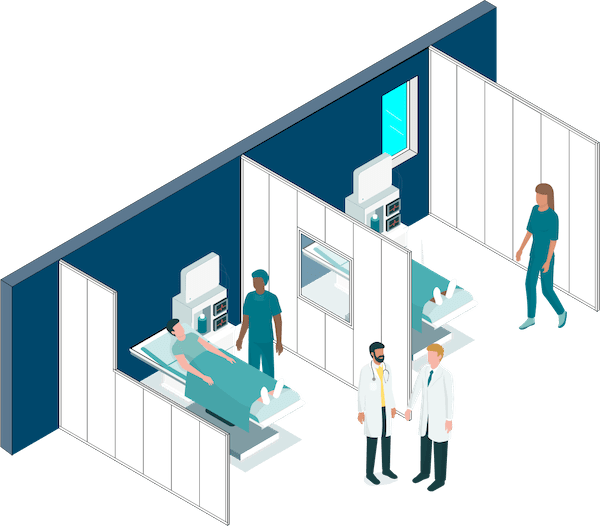 "We have found Kwik-Klik to be very responsive to the needs of the Trust in delivering bespoke solutions to provide screens to all our reception areas and larger open plan offices.
They provided us with quick, cost effective solutions to patient facing areas which gave our staff confidence to continue to come into work. This was a supply and fit service which was carried out with little fuss in a clean and safe manner.
The modular screen solutions enable office spaces to be divided up, creating covid-secure workplaces. The screens are self-supporting and can be moved around to suit any office configuration."
SE Head of Capital Projects
Estates & Facilities Department Bradford Teaching Hospitals Foundation Trust
Fast-fit Vaccination Booths to suit the available space
Kwik-Klik can supply stable and hygienic Vaccination Booths made from our versatile Freestanding PVC hoarding system.
The system is already proven in NHS ICUs, Isolation Rooms and temporary bed bays. It is re-usable and re-locatable and the smooth hygienic surfaces are easy to clean and sanitise.
We can install the system on site or supply the flat-pack components and instructions for rapid on-site installation.
Call 01274 525 660 for more details.
Pop-up Waiting Pods for Maternity Wards and more
Kwik-Klik has developed and installed safe waiting areas for patients and their partners.
Our Maternity Waiting Pods at Bradford Royal Infirmary allow expectant mothers and their partners to be together during the key hours before childbirth.
The modular PVC pods are self-supporting and can be adapted to the space available. They are suitable for Maternity wards and other areas where families need to be together, but apart from other patients.
Call 01274 525 660 for details.
Secure visiting areas for care homes
We can offer care homes a bespoke response to creating secure visiting areas using our proven hygienic floor-to-ceiling partitions.
Our full height PVC partitions ensure separate entrances for visitors and residents and feature built-in windows made from clear PVC and additional doors as required.
The smooth hygienic surfaces are easy to clean and sanitise and will help you maintain the highest infection control standards.
Call 01274 525 660 to discuss your requirements.
Hygienic and antimicrobial cladding systems
Our sister company, AM-Clad, supplied over 14,000 square metres of hygienic PVC wall cladding to the flagship Nightingale hospital at London's ExCel Centre and further substantial quantities of hygienic cladding were supplied to Nightingale sites at Birmingham NEC, Manchester Central, Glasgow SEC and Harrogate Convention Centre.
All Kwik-Klik hoarding and cladding systems are designed to support the wide-ranging Infection Control measures in place in each healthcare environment.
Call 01274 525 660 to talk to the experienced Kwik-Klik team and discuss your temporary and permanent requirements for hygienic hoarding and cladding systems.
Kwik-Klik clients include…