As you may have gathered from our social media posts, we spend quite a lot of our time in The Trafford Centre, Manchester. Creative hoarding graphics in large shopping centres, such as this one, are vital to maintaining the vibrancy of the shopping environment. Whether units are undergoing renovation or awaiting their next occupant, graphics can tease about brands coming/returning, promote the centre itself, or inform or educate more generally.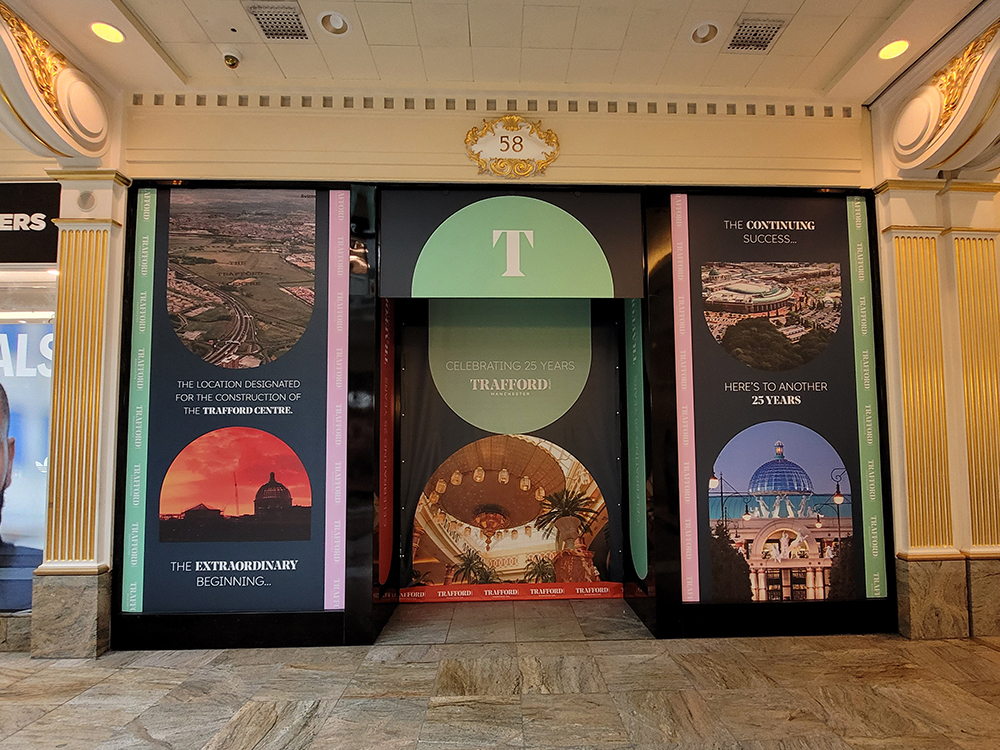 Celebrating 25 years
We have been at The Trafford Centre even more than usual over recent weeks, helping the centre ensure it looks its best for its 25th anniversary celebrations! The culmination of which was a big event on 29th September, with a live show from '90s girl band B*Witched as well as entertainment from local performers. With such a focus on the centre, it had to look its best.
Here are some of the jobs completed to help the centre shine:
Graphics to showcase the centre's offerings
Unoccupied units can be used to great effect to communicate the centre's own messages. These are some examples that feature key messages about their dedication to staff welfare and the environment, the centre's own reward scheme, the general buzz around the malls and, of course, celebrating 25 years in business.
Forthcoming brands
What better opportunity to shout about the brands coming to the centre than an occasion when thousands of people are coming to the anniversary event? The Yang Sing hoardings feature the newest addition coming to the China City area of the food court and the eye-catching Lounge graphics were installed in a really tight timeframe to get them done for the event (artwork Friday, installation Tuesday!). This is what the client had to say:
"Looks amazing!! Thank you so much for turning this around so quickly and doing such a great job on it! Massively appreciated."
Promoting future events
Again, such a big event created a great opportunity to inform people of another exciting attraction coming soon: Spook Fest. This 11 metre wide graphic for the Halloween event certainly conjured the spirit of it and the QR code allowed people to book tickets directly from the display.
Building relationships
Working on multiple projects in one location like this really allows us to deliver on what The Trafford Centre needs, both in terms of the installation process and the quality and style of the promotional graphics themselves (also see our case study). Our Graphics team is proud of the relationships we have built and we are pleased to be playing a part in the centre's ongoing success.